With autumn coming in fast, the time has come for warmer meals. Soups for autumn are a favorite here, on the stove or in the slow cooker. They are perfect for reheating, often tasting better the next day… if there is any left, which there usually isn't.
Soups for Autumn's Cold Weather
*This post contains affiliate links, see my disclosure policy for more information.*
I love making and eating soups during the cooler months of the year. They are perfect for warming up from the inside out. They are great for putting in a thermos for your kids to take to school, getting warmed up before heading outside to play.
Cheese Broccoli Soup by Megan at Raising Memories
Thia Wedding Soup and Pasta and Bean Soup by Brandi at Yee Wittle Things
Spicy Barley and Vegetable Soup by Elizabeth at Frugal Mom Eh!
15 Minute White Bean and Ham Soup with Kale
Bacon Cheeseburger Soup by Forgetful Momma as well as:
Cream of Asparagus Soup and Tomato and Dill Soup by Elizabeth at Life Love Liz
Best Ever Beet Soup by Shayne at Mommy Outside the Box
Easy Homemade Miso Soup by at Thinking Outside the Sandbox Family
Chicken Taco Soup by Jennifer at Mom vs the Boys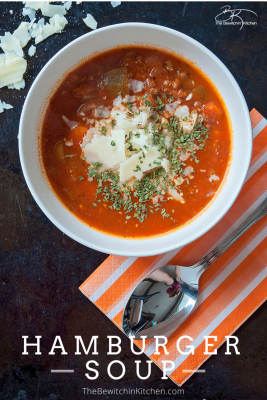 Hamburger Soup by Randa at The Bewitchin' Kitchen, as well as:
Roasted Cauliflower and Cheddar Soup
Creamy Pumpkin Soup by Jennell at Canadian Mom Eh
Paleo Butternut Lemongrass Soup and Chicken Vegetable Soup by Olivia at West Coast Mommy
Creamy Broccoli Soup with the CREAM by Jenn at One Heart One Family