All About Reading is a scripted, open-and-go program developed for busy parents who want to teach reading in the most effective way possible. We all like an easy, well-thought-out curriculum for our kids that isn't going to break the bank.
This post contains affiliate links, see my disclosure policy for more information.
All About Reading Curriculum
All About Reading is a truly multisensory program. Your student will stay actively involved in the learning process with activities that teach through sight, sound, and touch. Students tend to feel a sense of excitement in learning. And they should! They are learning how to think, explore, and grow in their abilities.
As far as preparation, it might take a little time to find an organizational style for you as the teacher to store materials or lay out a plan for how/when you want to teach.
You will want to do some prep work before you start lessons.
The program recommends sticking to 20 minutes of instruction a day, although I noted that lots of parents stretch that to 30.
Designed for preschoolers and kindergarteners
Builds a solid foundation for learning to read
It feels like play, but your child will actually be learning essential pre-reading skills
All About Reading Level 1
Covers letter sounds for A-Z, plus consonant teams TH, SH, CH, CK, NG, and NK
Dozens of colorful activities and games reinforce the lessons
Includes 52 full-color decodable stories that are sure to delight your child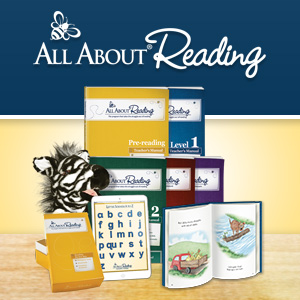 Teaches 12 new phonograms, including EE, ER, AR, OR, OY, AW, and OW
Colorful hands-on activities make the review time fun
Includes 27 full-color decodable short stories, along with comprehension activities
All About Reading Level 3
Students learn 16 new phonograms, including OA, IR, IGH, EW, KN, and TI
Packed with colorful activities and games to keep kids motivated
25 full-color decodable stories help increase comprehension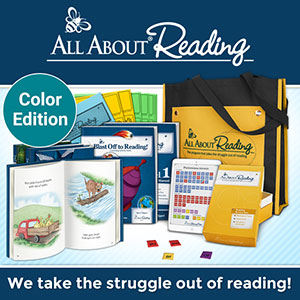 This final level teaches 15 new phonograms, including EY, UI, PH, OUGH, SI, and RH
Dozens of colorful activities teach comprehension skills and fluency
Includes 29 full-color decodable stories that provide practice and build confidence
We want to be sure your child is placed at the correct level, and the placement tests are a great place to start.