An Excerpt from Healing in Hurting Places:
I attended a meeting where I felt prompted to share a story I had written about my abuse. Even though the forum did not relate to abuse, I felt it was important to share part of my journey with these folks, even though I didn't realize why at the time. It seemed that God had a plan for that evening.
This was the first time I had written and read my story aloud. God gave me the courage to get through the difficult passages because the wound had not yet begun to heal. There were five women and two men in the room the night I shared my story. When I finished reading, there was silence.
It was unnerving. I had no idea what these people were thinking and that unhinged me a bit. But I drew confidence from the strength that God had given me to share and now that I had spoken the truth aloud, there was nothing more I could do. I couldn't take back what I said.
But strangely enough, I didn't want to. Releasing that story was very freeing and empowering in a way. And then one of the women sitting at the table said in a halting voice, "Thank you for sharing that. I was raped by my half-brother when I was twelve and you just gave me the courage to speak out."
Thank you, God, I whispered. So this is why you wanted me to share my story with these folks. Now this woman knows she is not alone and can begin to heal.
I barely had time to think these thoughts when another woman at the table said, "My grandfather started abusing me when I was three. I barely remember that part because I was so young, but I was afraid to go to his house. And the abuse continued for years."
I told those gathered there that my therapist had told me that one out of every three women are sexually abused. I added, "And you can see, right in this room, there are three of us out of five."
From the other side of the table, another woman, looking down to avoid our eyes, said, "Make that four." And she didn't utter another word.
(From Healing in the Hurting Places by Karen F. Riley)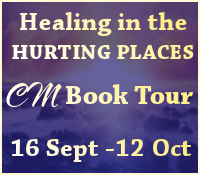 You can get your copy from Amazon and Barns & Noble.
Disclaimer: I received no compensation for participating in this book tour.